Many traders have issues with not sticking to their stops, getting stubborn and causing large losses.  I too have been there, just last year in fact.  That is no longer the case for me, however.  I no longer have issues now getting stubborn and holding a trade past my stops.  The problem though is now I have gone to the far other side of not sticking to my stops.  The pendulum has swung to the point where I am taking my trades off well before my stop to avoid the planned loss.
As my tape reading skills have improved over time it has had a positive and negative effect.  The positive, I am much better with my entries.  The downside, I am to quick to take my positions of on the first sign on shenanigans.  This often means I am taking them off well before my planned stop loss. I get "shaken out" as we say in the trading world.  As I have analyzed why I do this there are a few reasons.
One, simply I am right some times and the play eventually triggers my stop loss! I cut the position early to save the unnecessary losses when it's obvious to me that its going to hold.  This feels good when I call it correctly and save myself the loss. I find that I am frequently right when I get out early within the first 15-30 min of the open after a big spike, pull and hold via bid propping.
Second, is emotional.  I simply fear the loss.  I hate having to stop out and don't want to take the loss I guess.  This is even the case when I am sized in appropriately for my account size and the loss would be an acceptable $ amount (for example $200 if I am wrong and have to stop out).  I know this is dumb, but its my reality right now and I have to figure out how to fix it.  Sizing down, I have tried.  It still effects me no matter what my size is or what the stop loss $ amount will be.
What I am finding from my data collection is that I am missing out on A LOT more gains by taking my plays off earlier then my initial planned stop, then I am saving myself from losses.  Allow me to show you some examples from just this month.  I could show you many more examples but we will stick to August for now. (You can click on the chart to see a bigger view)…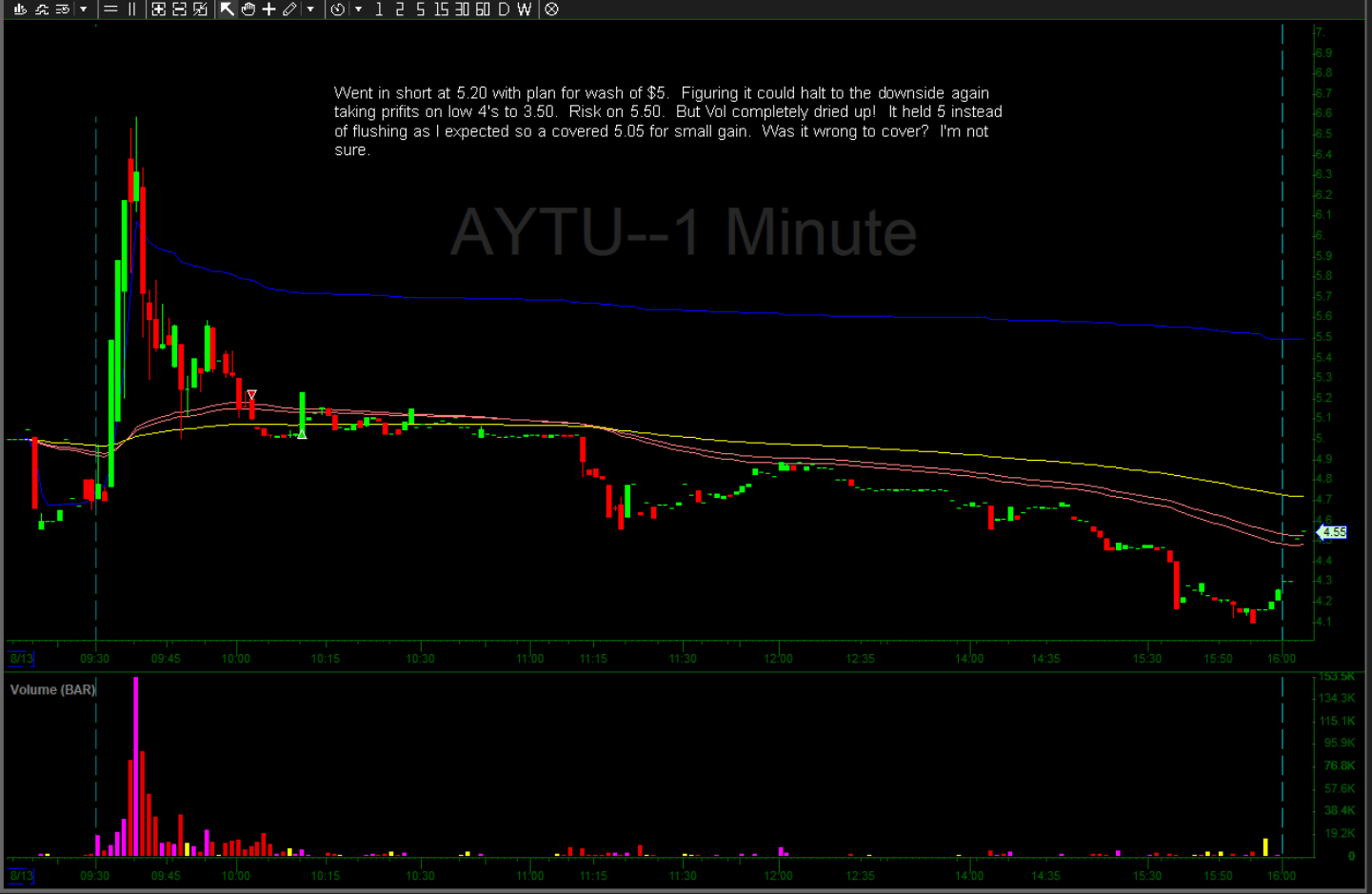 AYTU would have hit most profit targets by end of day.  Never hit my stop.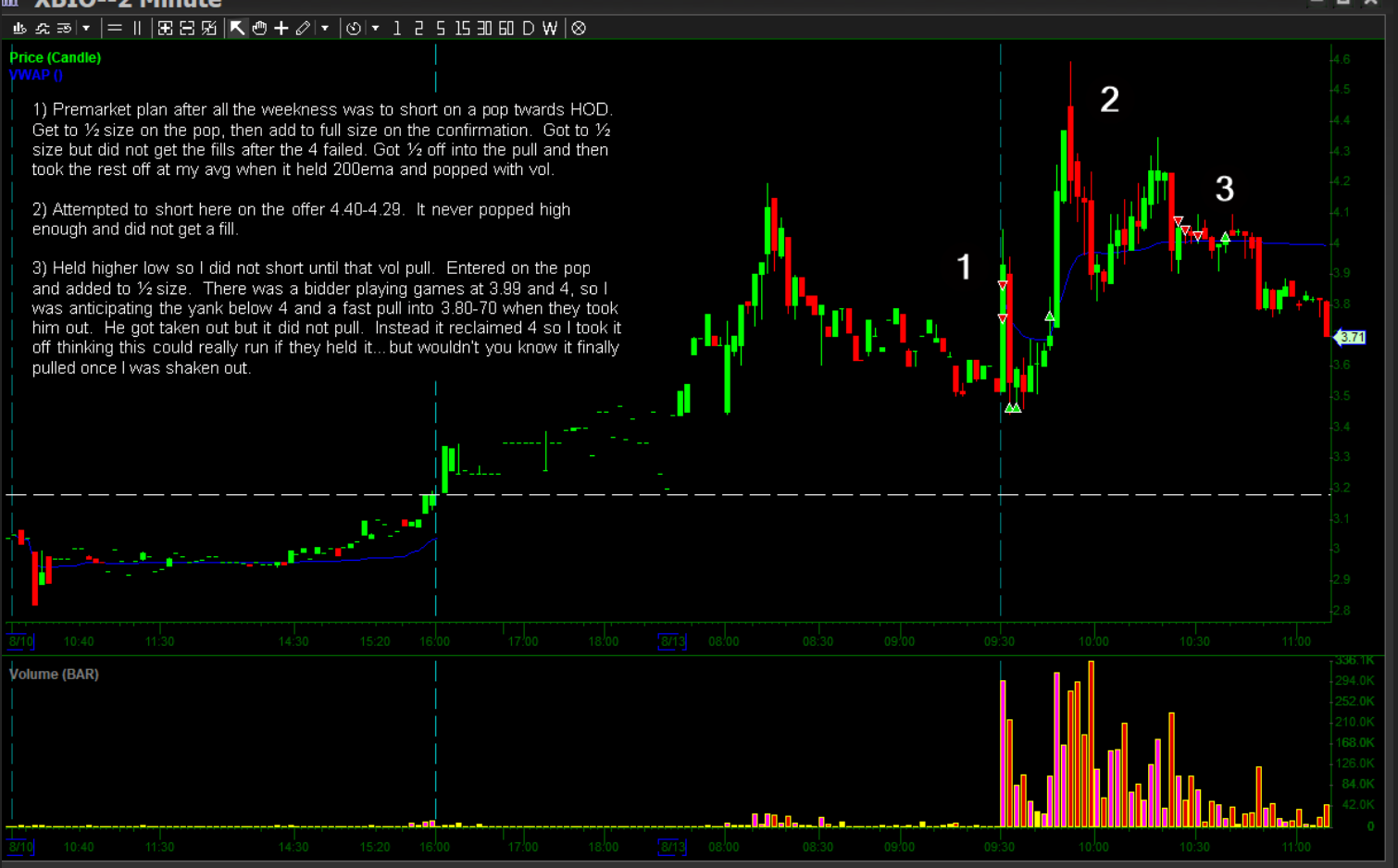 XBIO a great example. I was right on getting out early on the first 15 min reclaim there just as I said above.  But that second short I was very wrong to exit.  It did not hit my stop until much latter in the day, after I would have reached multiple profit targets.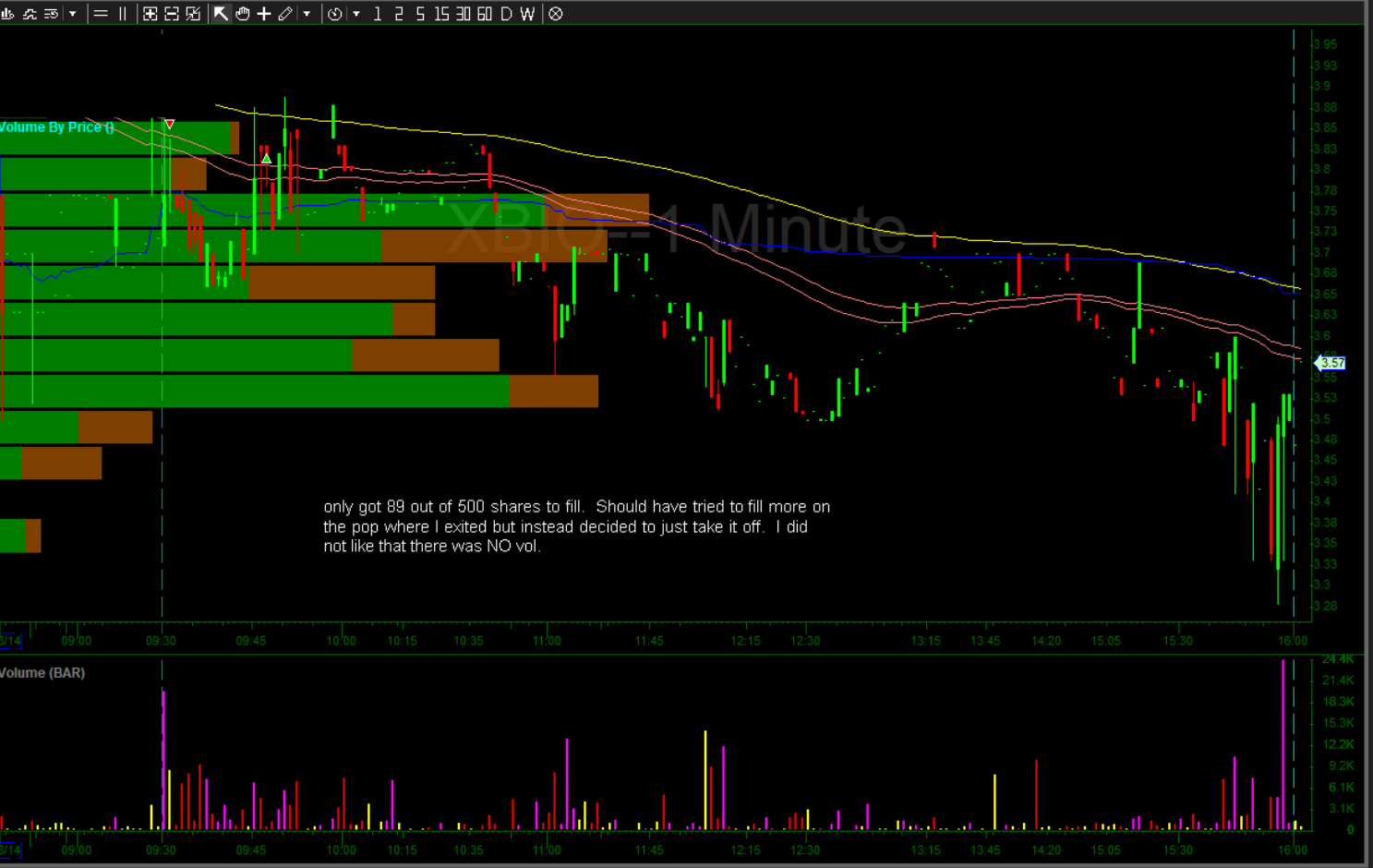 Another XBIO example on the next day.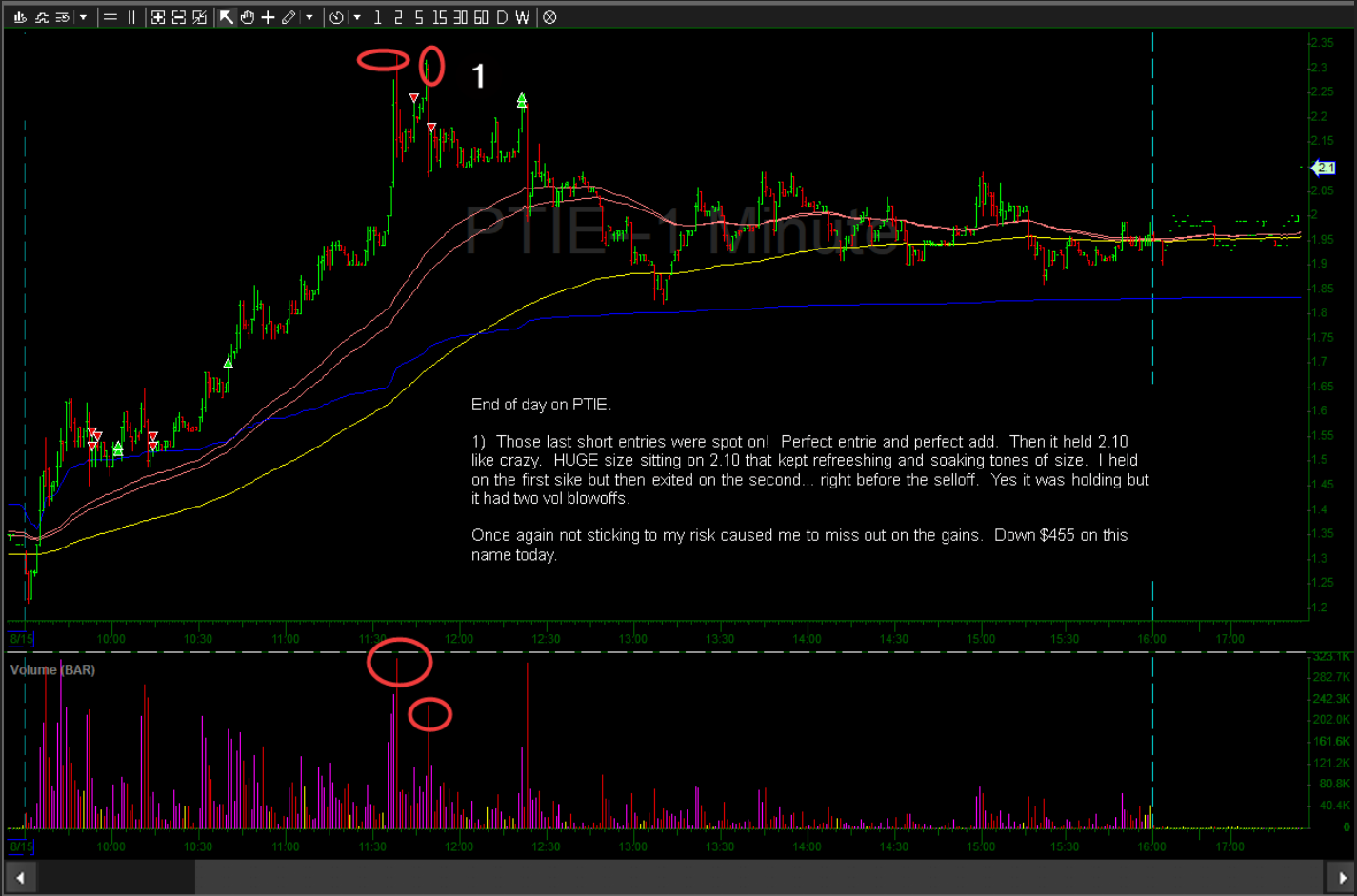 This is a great example from yesterday on PTIE.  Took the loss early and seconds later it finally pulled.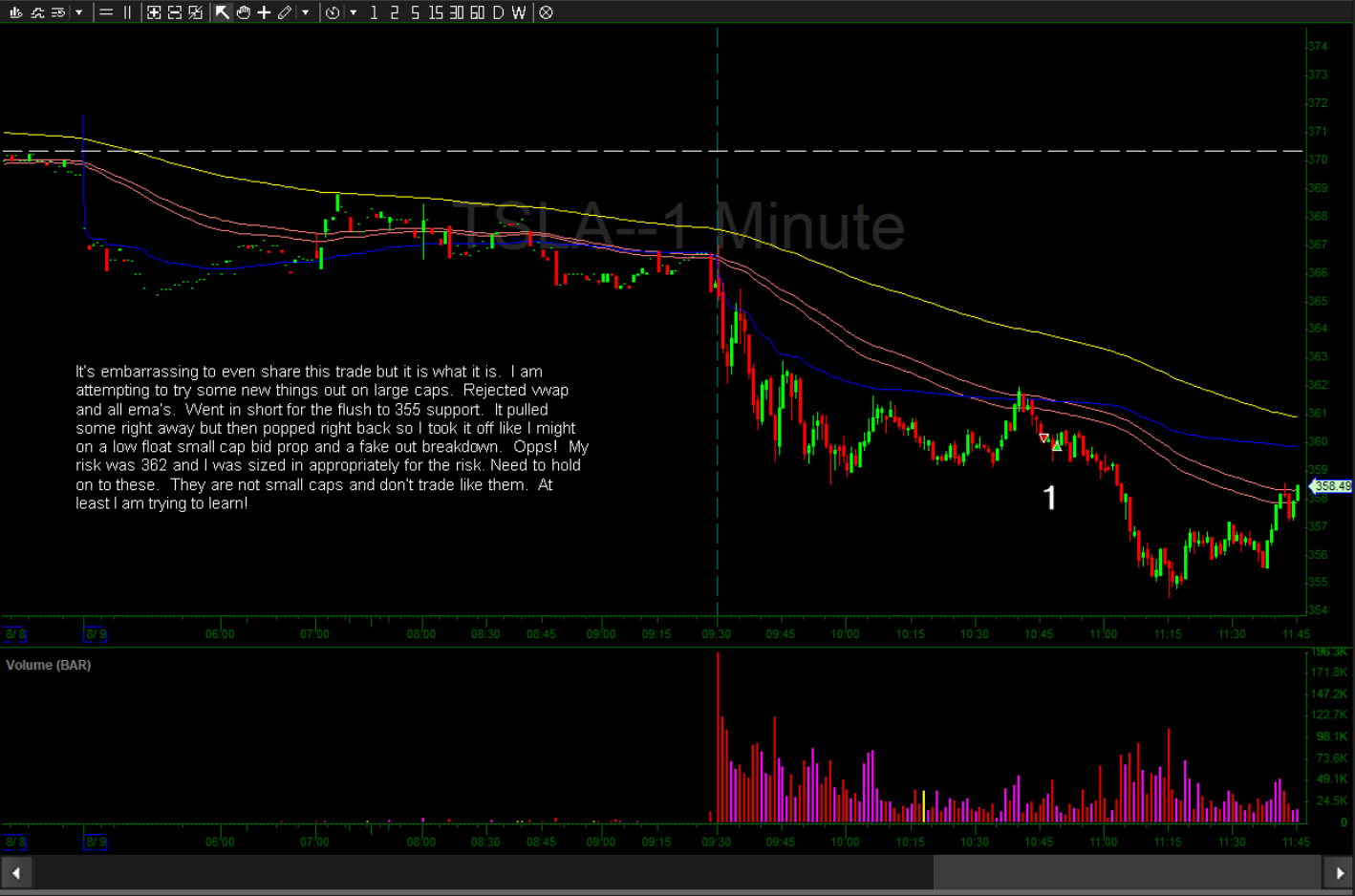 TSLA I left several hundred on the table with this one.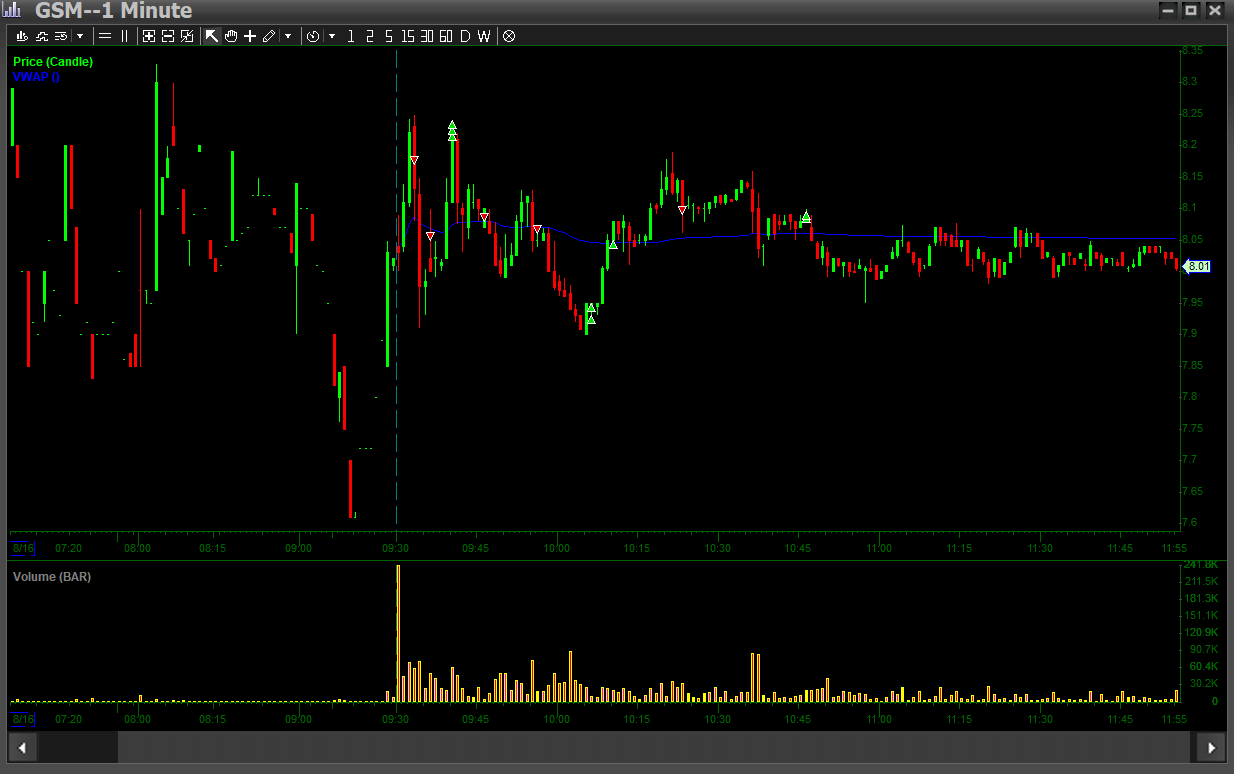 Last example from today.  I took that first short of to early. It had not broken my stop point yet.  This cost me not only in losses but burning commissions as I continued to enter and exit prematurely.
As you can see, there is only one example above where taking my trade off early (before my planned stop loss) saved me some money.  But there are many examples above where taking my trade off early cost me a lot in missed gains–substantially more then I saved from stopping out early.
This data shows me that I need to start sticking to my planned stop losses.  Sticking to my planned stops would drastically improve my overall trading performance.  Sizing down to make that loss smaller has not helped so my hope is that this data will appeal to me logically to do so.  I need to garner the balls to stick to the planned stop!  I have to figure out a way to hold myself accountable to this.
The reality is there is a balance here.  Price action has to dictate how we manage our trades.  When to add, when to cut, when to get aggressive. That balance is what I am struggling with.
I have been watching @Jtraderco in SmashtheBid's chat room for about a month now and this is something he is very good at.  He told me the other day, "bro, assume the risk that was an A+ set up!"
So, Aaron, you have to "Assume the risk!"